371 Pepper Drive 
Mattawan, MI 49071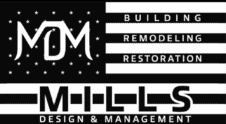 Mills Design & Management is local and family owned construction business servicing West Michigan. Owner Dave Mills is an educated expert in the construction and damage restoration business with over 20 years of experience. We build new and remodel existing homes, and pride ourselves on our prompt attention to clients with fire and water damage restoration.
We have a very proud referral base. Whether you are looking to remodel or finish a basement or kitchen, or have had a devastating incident with fire or water, we are at your service with caring, prompt attention and high-quality work.
Let us be your expert. Leave the work to us!